~ The perfect compliment to The Galactic Wall Calendar ~


White Magnetic Wizard Year: July 26, 2019 - July 25, 2020
This user-friendly tool makes it possible to view and map your Time in terms of 7 day weeks + 28 day moons, all encoded with the sacred Galactic Signature of every day!


* Full Color
* Pocket-book Sized (4" x 7")  
* Includes 36 pages of Charts 
* Provides room for appointments, journaling
and note space...
* Codes in Japanese & English

Day Planners: $35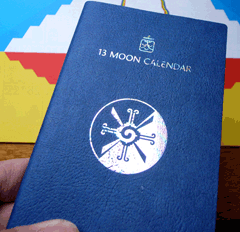 *

Please note*
This Day planner can be used with great joy and practicality for those of any level of experience in working with the Galactic Calendar system!
This tool lists the key words to relate to every day's Galactic Signature
and shows many charts that provide basic Dreamspell education
(Shown in Japanese & English).

However, this book does not provide introductory education to the advanced practices. So, while this book indeed lists MANY codes, it will NOT teach you HOW to do the practices, but rather serves as a reference guide for those who are already familiar with how they work, helping one to easily find where we are within the many cosmic cycles. 
This Day planner provides "moon at a glance" pages and 36 pages of color charts showing many different layers of this Time Science, including the overlays to *participate in The Rinri project, The Telektonon, The 20 Tablets, The 7:7:7:7. The Elder Futhark Runes, and The Mystery of the Stone practices. Truly a powerful ally for "Earth Wizards!"